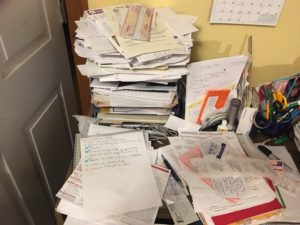 B.E.P.
Happy New Year!  Have you made your New Year's Resolutions yet?  Or broken them yet?  😉  Read on for an idea to stay on track with what you want to do this year…
Alright, you might be wondering, what does B.E.P. stand for?  Is this some military acronym?  No, being a retired military member's wife, I like acronyms, so I came up with my own.  For myself.  B – Big, E – Everything, P – Plan.  I'm not a born organizer or neat person, like other people I know.  It has always been a struggle to keep up with everything.  With each child, however, I have become more organized (you have to, for survival!).
So this is my newest attempt to organize myself.  I got a 17" x 11" size paper, and made a large graphic listing all the big areas in my life:  Home, School (we homeschool), R & R Business, Farm, etc.  Underneath each listing, I wrote some of the things I need to do.  Then I used an 8 ½ x 11" paper and listed each main area.  Then I laminated it.  I plan to try to work on each area every day, and mark it off or put a check mark by each area I do.
I am very OCD, and I will start working on one area, and hyper-focus on it.  Then, at the end of the day, I see that many other areas were neglected.  Before long, I am super behind in one or more areas.
I'm hoping to discipline myself to at least work a little on each area each day.  That way I can see progress each day.  If I notice that one area is consistently being neglected, I can make plans to do that one first the next day.
I think this might be helpful for others like me, whether you are a parent or a student.
How about you?  Are you a born organizer?  Or do you struggle like me?  I'd love to hear your tips or ideas on getting or staying organized.  Looking forward to your brilliant responses!