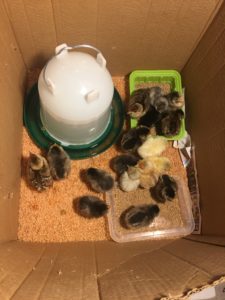 Today while driving my husband to the airport for a work trip, he informed me that the baby peacocks would be arriving in the mail tomorrow, so I needed to prepare for them.  Add that to the long list of things I needed to accomplish this week, I thought.
I dropped him off and was at a FedEx ship and print center, mailing a saber case to a customer, when I saw a text from hubby that read:  "Peacocks are at post office now!  Pick up!"  Okay!
I then drove to our local farm store to pick up Chick Starter Feed (we were receiving 2 peacocks and 12 chicks).  Since there is no specific food for baby peacocks (that I'm aware of), we feed them the same food we give to our chicks.
The postal workers were happy to see me!  One gentleman quipped, "Oh, those are your chicks?  They flew the coop!"  I hope not.  He shared that once before they had received a larger box full of chicks, and they got loose and they had to run around and catch them!  Fun!
I took my little box full of chirping home.  I put them in the house where they would stay cool (it was about 90 degrees outside) and walked out to the woodshop.  I found a hanging light to use for heat, a cardboard box and some wood shavings from under the table saw.  I put the box in our basement, lined it with newspaper and then spread wood shavings over that.  I put the chirping box in there, cut the tape holding it and carefully opened the lid.  The little birds sat there chirping, so I picked each one up individually and set them into their new home.  Turned out to be 15 chicks and 2 peacocks.  They are so tiny and cute!  Removing the mail box, I added a small waterer and two pans with chick starter for them to eat.
E42908B1-F765-428A-85AD-E1B0539D410E
Now I am periodically going down to the basement to check on our new babies.  I'll keep you posted on how they are doing!