We made our annual trek to the USAF Academy for Parents Weekend.  For us, this trip is two-fold.  Firstly, we have a daughter there.  This year she is a Firstie (a One Degree or a Senior)!  This is our last year to visit her for this event, kind of bittersweet.  Secondly, we come to see all the parents who converge on Colorado Springs to see their kids!
Parents Weekend is a common event at many universities and colleges.  For some, it is for parents to see their babies (Frosh or Freshmen) who have just recently gone away to school!  For those with children at a military academy, this is very emotionally important, as they have not been allowed to communicate or see their child (except for handwritten   letters) for several weeks!
I've heard that at the Naval Academy, they only have one Parents Weekend during the whole college career of a student.  One mom told me that her daughter was upset that she had told her dad several years before that he HAD to be sure and get off work and come to her Parents Weekend.  He was not able to! 🙁  I think originally USAFA's Parents Weekend was for freshmen or 4 Degree parents, but now lots of parents come every year their child attends the Academy.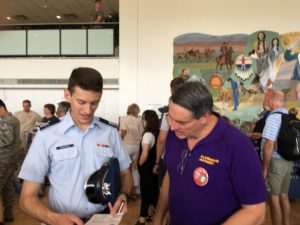 During USAFA's Parents Weekend, there is an informational fair called the Info Fair.  Many rows of tables are decorated with colorful tablecloths and covered with memorabilia such as hats, bags, shirts, and other items for parents to buy.  Parent Clubs and local vendors man the tables.  We, however, are not local, but have been doing this for many years, since we offer a service to the cadets and their parents…an heirloom quality display case in which to put the saber that symbolizes the 4 years of blood, sweat and tears that they put into their education.  My husband graduated from USAFA in 1986, so it has a special place in our hearts.
I love meeting all the cadets and their families, and sharing with them about how important a saber and case is.  Usually one or more of our children come and help me.  This year was my husband Rich's first time to come!  He wanted to bless his daughter by meeting her teachers and advisors and just spending time with her.  What he hadn't counted on was how fun it is to interact with all the parents and their children!
We have our biggest sale of the year at this time.  And even if you didn't make it to Parents Weekend, or you or your child are affiliated with a different school, you can still take advantage of our sale!  Be sure and put the sale code in at checkout PW2018 to receive 8% off your saber case!  Or, if you like our new service, Glass Etching (we etch your class crest or other graphic on your glass cover, on either the right or left side), you get 1/2 off the price of this service when you type in PWGlass18 at checkout.  You can use one or both codes.
And DD, if you're reading this, we love you and are so proud of you!