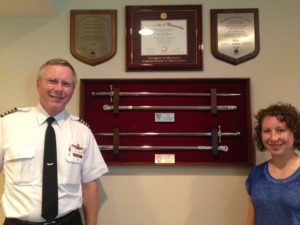 As a vendor, I've had cadets and parents come up to me and ask me, "Why should I buy a saber and a case?"  I try to convince them of the importance of it, but usually I don't have much time.  I decided it might be easier to put it in a blog post.
Remember David Letterman's Top Ten on the David Letterman Show?  In honor of those students and parents sitting on the fence about whether they should take the plunge and buy a saber and case, I present to you…
R & R's Top Ten Reasons to Buy a Saber and a Case
10. If need be, could be used as a weapon.  (it's not super sharp, but you could jab or whack a robber pretty good in an emergency…if you don't have the glass cover on the case).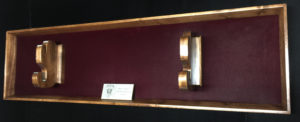 9. Pretty cool stuff for the "I Love Me" wall, or parents' "Whew, I'm Glad They Made It, and I Love Them" wall
8. The education was free, and extremely hard, too, so you deserve to splurge and treat yourself
7. A saber AND a case together will cost less than the class ring!
6. For posterity.  We once had a customer who DID get the saber and case, but for his engraving was only going to have the class crest and school name.  I convinced him to put his name on the plate so that future generations could look at it with awe and exclaim, "Wow!  Great Uncle So and So went to a prestigious military academy (you fill in the name)!"
5. Awesome gift for a sponsor, AMT, AOC or other significant person in your life who helped you make it through.  Some cadets will get together and purchase a sword and case for a sponsor or AMT.
4. Peer Pressure.  Many alumni before you have already bought them!  Some of them at least bought the saber while still a cadet (cheaper that way), and the case later.  We've had guys from '59 and '65, for example, who tell us that they should have done it years ago; it looks so beautiful hanging on the wall.
3. Be proud of what you did, and inspire others.  Not too many people can have a sword and case on their wall.  It is a symbol of your hard work and sacrifice.  Some cadets have told me, "But I wasn't in the honor guard or I didn't use a saber while at the academy."  Doesn't matter.  It's a symbol of your time at a military academy.
2. You never know when you will need it…for a wedding or other official ceremony.  Just ask Shawn Schulz, USAFA Class of '06.  See his testimonial on our Testimonial page.  "Because Every Grad Should Have One" is what he put on his engraving.  We agree!
1. It's a piece of history and a family heirloom.  And your family will love it!  (don't wait, prices will be going up soon)